Contact us for this product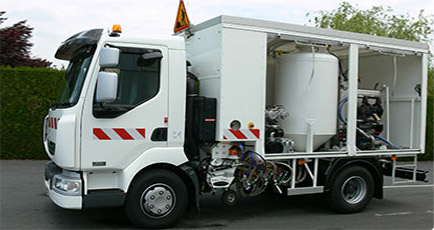 Versatility
Removable GRV paint tank for alternate use with water or solvent based paints without the need to clean the circuits. The paint circuits are duplicated.
Easy operation and handling
Total and fast opening of flaps with maintenance-free spring rollers. Easy turning on narrow roads.
Unequalled application
Easy application in the central axis or on the edge of windy, narrow roads and around roundabouts. Large product storage capacity for autonomous operation all day long. Fast and easy filling from ground level.
Innovation
Incomparable quality, precise stoppage without waste and with uniform dispersion of beads thanks to the use of JetLine technology.
Automatic control of paint flow-rate according to travel speed in order to obtain a regular flow-rate. Automatic control of the hydraulic system at all engine speeds, even when idling.
A maintenance and adjustment free system which absorbs paint pump variations.
Safety and user-friendliness
Totally safe driving conditions. Direct visibility over the work site, no noise, odours or dust in the driver's cabin. Direct use when arriving on site or leaving without leaving the cabin.
Touch-screen with the following functions :
transfer of data to USB and printer
paint and beads flow-rate indicator
true paint density indicator and maintenance indicator
optimal distribution of beads over the painted surface
respect of line lengths regardless of travel speed
CE : Respect of standards in force